TV Technicians & Custom Car Shows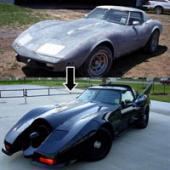 In a world where expressing uniqueness and personality continues to increase in popularity, so too has automotive customization. From tricked-out factory models to complete fabrications, custom cars are appearing everywhere, drawing the attention not only of the public, but also the media. As a result, several cable networks have based programs on this premise, to the delight of viewers everywhere.
The Discovery Channel has both "American Hot Rod" and "Monster Garage," TLC has "Overhaulin'," and even MTV has jumped on the bandwagon with its own custom car show, "Pimp My Ride." These shows feature not only long-time automotive legends, but also up-and-coming designers, fabricators and other technicians, as well as parts specialists and painters. They go in-depth into the processes of both customization and fabrication, giving viewers the experience of what it is like to work in a custom shop.
Some of the featured builders on these shows are self-made men, such as the legendary Boyd Coddington and Jesse James, who started out in small garages and built from the ground up, but most have had schooling to learn their trade. Chip Foose of "Overhaulin'," for example, majored in design at Art Center, graduating with honors and leading him to the opportunity to design show cars for the films Blade Runner, Robocop, and Gone in 60 Seconds. Aside from the headliners, some of these shows also employ an open "casting call," in which they look for schooled and skilled artisans to appear on a show and lend their expertise to the build. A full and impressive resume can land anyone off the street a chance to work alongside their favorite builder, and create something that will be seen by millions of viewers across the nation.
The world of custom cars is a growing trade, and as it continues to develop, the need for skilled artisans will be greater. Automotive technicians will continue to be employed in new and exciting ways, far from the local garage or repair shop. The opportunity for a stimulating and varied career in the automotive industry is increasing, and for many, these shows are only the beginning.
Read about schools offering programs in collision repair and refinishing.
Read about schools offering programs in hot rod and custom fabrication.
Read about career opportunities as an auto-body technician.
7916 reads