"Pimp My Ride": Become a Custom Auto Technician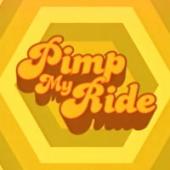 Xzibit may be the most famous face on MTV's Pimp My Ride, but the real stars of the show are the guys from West Coast Customs and Galpin Auto Sports, who turn dying clunkers into modern works of art, which are often worth as much as $20,000 to $30,000. Custom car detailing and refinishing is one of the most creative jobs in automotive technology, and it requires specialized skills above and beyond standard automotive repair training.
What does it take to become a custom car specialist like those talented artists on Pimp My Ride? First you'll need basic automotive collision repair training from a technical or vocational school. This usually includes training in areas like welding, plastic parts repair and refinishing, cosmetic dent repair, media stripping, glass replacement, and detailing. This fundamental training is necessary to know the best way to manipulate the different automotive components, parts, and materials used in today's high-tech cars and the models of the past.
Custom auto body professionals usually have additional advanced training in one or more specialized areas, such as electronics, suspension, wheels and tires, or accessories. For example, advanced metalworking and welding skills are needed to create custom parts to change the shape of a car. Electronics specialists may need training not only in standard automotive electrical components, but also popular multimedia add-ons, such as DVD players or even video game systems.Art and design classes are important for technicians who specialize in custom air brushing and paint jobs or designer interiors, such as embroidered seats or suede headliners.
While the extra training involves additional time and money, it's well worth the effort. Just watch any episode of Pimp My Ride, and you'll see how much the work of custom auto specialists is appreciated and just how far you can let your imagination and creativity go.
To become a custom auto technician, start your education by checking out an automotive school in your area. We have a list of automotive schools by location compiled for you.
Sources: 
18859 reads