ASE Certification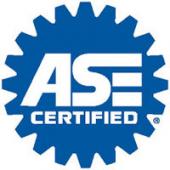 The National Institute for Automotive Service Excellence (ASE) certification is the mark of distinction awarded to qualifying automobile aftermarket service and repair technicians.
The 420,000+ vehicle service and parts technicians who hold ASE credentials represent the cream of the crop in the car service industry. They can be found working in independent garages, car and truck dealerships, parts stores, service stations, and franchise repair shops like Midas and Car-X. ASE certified professionals can be identified by the blue ASE shoulder insignia on their work clothes and the ASE certificates proudly displayed on the walls of their offices and garages.
If you are considering obtaining your ASE certification, read on to get more information about the Automotive Service Excellence certification and find out what you need to do to become certified.
Why get certified? 
ASE credentials give customers peace of mind that their vehicle will be serviced competently and efficiently. It is thus highly advantageous for self-employed mechanics to have the blue ASE certification seal to attract and retain customers. Larger repair shops and garages also prefer to hire ASE certified technicians, and often reward ASE-carrying employees with additional responsibilities, higher pay, and opportunities for advanced training. The ASE Blue Seal of Excellence is awarded to those service shops with at least 75% of counterpersons and mechanics ASE-certified and at least one ASE certified employee in each service area offered by the shop. 

Who can get certified? The ASE credential is not available to entry-level service technicians or countermen. A minimum of two years of work experience or a combination of one year of technical school training and one year of work experience is a prerequisite to taking any ASE exam. 

How do you get certified? If you meet the work and/or training requirements, you can get certified by passing at least one of the more than 40 specialized exams offered by ASE. Those automotive technicians who pass eight or more ASE certification exams earn the rank of Master Automotive Repair Technician.
There are 14 main test series: automobile/light truck, automobile service, alternate fuels, medium/heavy truck, transit bus, parts specialist, advanced engine performance specialist, electronic diesel engine diagnosis, collision repair and refinish, damage analysis and estimating, school bus, engine machinist, truck equipment, and undercar specialist. Some of these are further broken down into more specific areas of specialization, like automatic transmission/transaxle, electronic systems, or engine performance. 


What are the ASE exams like? The ASE tests are designed to measure real-life skill and knowledge in basic technical repair, adjustments, and diagnostic procedures. Although the questions are multiple-choice, the detailed knowledge of procedures and precautions needed to correctly answer them can not be obtained simply from studying books or technical manuals. 

Even auto industry veterans can benefit from brushing up on techniques before opting for an ASE exam. About one-third of test-takers fail the certification exams. (Counterman) Premier automotive training institutions like Lincoln Technical Institute and Westwood provide excellent preparation for ASE exams. 

What happens after certification? ASE-credentialed professionals must be retested every five years to maintain their status. Given the rapid evolution of vehicle models and their component parts, mechanics and technicians are encouraged to continually update and expand their knowledge with the latest exam. Need more info? Go to www.asecert.org on the web or call (888) ASE-TEST.
Sources:
National Institute for Automotive Service Excellence (ASE) 
Counterman Magazine 
16530 reads