Street Rod and Custom Fabrication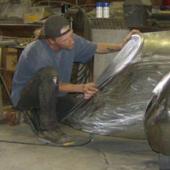 Are you interested in learning how to customize or restore cars both inside and out? WyoTech offers training in street rod and custom cars. Check out WyoTech's courses in street rod and custom fabrication.
WyoTech's courses will teach you the techniques used to customize vehicles and create works of art. This course may be added to any of our core training. You will learn basic specialized sheet metal fabrication techniques as applied to customizing vehicles. These techniques will include the use of basic hand tools and specialized equipment like the english wheel, planishing hammer, power hammer, bead roller and louver press. Our custom paint training will cover the application of specialized finishes like pearls and candies. Techniques will be taught for special effects including the layout and design of graphics.
Street Rod and Custom Fabrication offers a solid foundation in:
* Custom and specialized sheet metal shaping and fabrication
* Application of lead (body solder)
* M.I.G., T.I.G. and Oxy-Acetylene welding
* Chop tops including carson style tops
* Hidden pin hinges (Suicide Doors)
* Body Construction including Firewalls, Floorboards and Transmission tunnels 
* Custom paint techniques including special effects, airbrushing and pin striping
28559 reads